A kitchen is all about exclusivity!
It's a chance to express yourself and impose your own unique taste on your home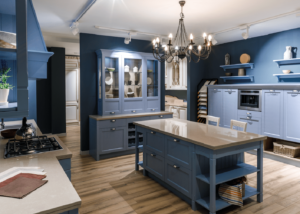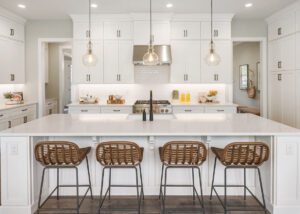 With modern kitchen designs, you have the craft and opportunity to bring everything to life. From sinks, to islands; storage to fine details, the freedom customers have when designing their own kitchen is a luxury not to be wasted.
Storage
Storage is so important in a kitchen. There's nothing worse than a cluttered worktop. It means when you're cooking, you're often squashed into the corner, restricted, and always running out of the room. That's why a spacious and open kitchen is a must-have. This is where storage comes in. Cupboards, cabinets and pull out drawers are all designed to do one thing: make kitchen space work. Not only is storage practical, but it can add a different dimension. Built-in bookshelves and stylish wine racks are always a nice twist on classic kitchen plans. We make storage fun and interesting.
Island
An island unit is an instant hit in a kitchen. When people enter, it stands out – the pull factor. On top of being a cooking station, it's a social space; where friends sit and have drinks and families discuss their days. It's in the centre of the room for a reason because it will always be the centre of attention. We believe island units should tick three boxes: practicality, sufficient seating, and they must above all else, look good. With our diverse collection, we can help you choose an island that works best for you. You can be brave and experimental, or keep it plain and simple. As with all of our design options, the ball is always in your court.
Lighting
You can really push the boat out with lighting. If you've gone for a classic colour scheme, keeping things plain and simple, then lighting can really add something different. Contemporary lighting is wide-ranging. There are traditional and experimental styles – endless options for you and your unique kitchen. Whatever your taste, good lighting can introduce drama and atmosphere to a room. We're a big believer in kitchens being practical and well-lit, which is why we help you make all lighting decisions in accordance with natural light and the general layout. If you're looking for lights hanging over the island, or simple spotlights, we've got you covered. Throughout the design period we are always in touch with our electricians, and so are you. No one is ever left in the dark.
Are you looking for a Kitchen Designer in Manchester?
It all starts with design, which is where come in. When it comes to designing your own, there are so many things to consider: hand-painted? High gloss lacquer or a matt finish? Perhaps you're a big fan of on-trend metallic? When it comes to themes, the possibilities are endless. But this is just the start.
We are here to help bring your ideas to life. Your dream kitchen may be a distant and broad concept, or perhaps you have it all planned out – colour schemes and décor down to a tee. Wherever you're at, we are here from early consultation, through to the final installment. It's an incredibly exciting process, and one we always love to have the privilege to share with you.
Our team of highly-qualified designers is always on the hunt for new ideas. Interior design is always on the move, and we are determined to keep up with it; giving you the chance to install some of the latest and most stylish designs out there. With 20 years of experience, we know what makes a good kitchen. Our attention to detail is what makes us special. We nail every measurement and perfect every surface. These are the things that can make or break a kitchen, which is why we are never content with cutting corners.
Designing your own kitchen is a really exciting process. There's nothing quite like putting your own twist on a home. We know how special it is, which is why we are here to make it easy. As exciting as it is, it can also be very stressful. Luckily with our 20 years of experience, we know exactly what it takes to get your dream kitchen designed and installed, quickly and efficiently. It's a simple process: you pick and purchase the materials, we supply the rest and make sure everything fits perfectly. If you're looking to design your kitchen, give us a call today and receive a free, no-obligation quote!
With Over
20 Years
Experience
If you're looking for a kitchen designer in Manchester, then look no further!
We cover all areas of design and every inch of the kitchen.